HAIR BEAUTIFULLY IMAGINED
Unlike Any Other Salon
It's quite apparent walking up to The Hair Lounge, it's unlike any other salon.
The moment you walk in the door you sense the welcoming atmosphere and can see the luxury environment, with all the high end finishing you'd expect from a swanky Knightsbridge salon! The Hair Lounge offers everyone the opportunity to have their appointments in privacy with the private room replicating the main salon vibe.
There can always be laughter heard behind the stunning drapes, putting everyone at ease & for those once nervous of salon visits now looking forward to their next appointment. We are now very proud to announce we are winners of a couple of awards, one being Best Hair Loss Specialist on Southern England plus Best salon locally by Lux Health, Wellness and Beauty magazine in 2019.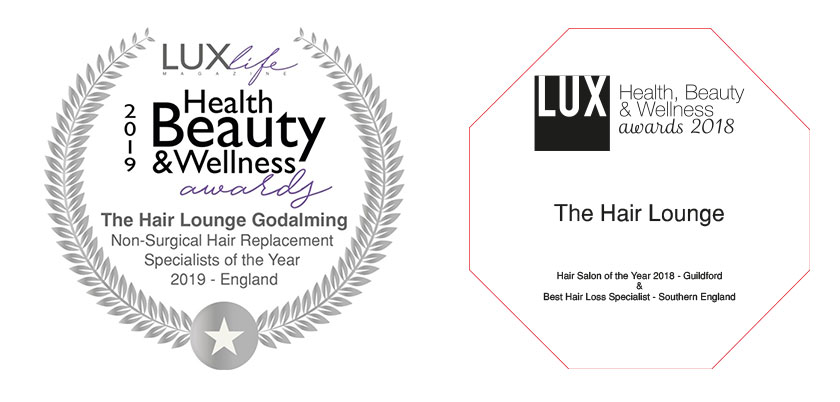 I have been visiting Tara since 2016 and even featured on a show on Sky TV. I found Tara through Instagram when I was searching for hair loss solutions. This was when my confidence was at an all-time low and I was losing hair severely.  

Tara's skill and expertise are unmatched. She knows how to instal Total Cover hair systems perfectly to match the shape of my face. I am very particular with how I want the system to frame my face and she always does a 10/10 job. On top of this, her cutting skills are perfection and I am always thrilled leaving with a full head of hair which not only looks natural but would be the same style, I would have, If I had hair of my own.  

As I have an active lifestyle with frequent gym visits and nights out. I need to make sure I keep on top of the maintenance. The bond which is used does start to break down and sometimes leave sticky residue on my head. This can be easily fixed at home by applying fresh bond to the areas which are lifting or even visiting The Hair Lounge for a refit. On top of this, as I always have a longer 'quiff' hairstyle, the hair can easily get tangled whilst sleeping. I have found wearing a hairnet before bed eliminates this and I wake up with minimal tangles.  

Once you have learnt how to do all of this, it becomes part of your lifestyle and does not feel as scary as it sounds.  

Finally, The Hair Lounge offer a lot of advice, knowledge and tips on how the how you can get the most out of your system and solutions to any issues you may have. You are not left on your own. The salon is clean, tranquil and a bit of an escape from reality which all adds to the experience.  

I am forever grateful for how much Tara has changed my life. Not only have I gained my confidence back, but I have a full head of hair which I can style and do whatever I want with! THANK YOU TARA
"As always such a great service from Neil and Tara! So comfortable and friendly 5 stars from me!!"
"COVID friendly, good safe environment and of course great service!"
"Excellent service from Neil who is an accomplished hairdresser / barber and am very happy with my new hair piece."
"I have been using total cover plus hair systems for many years now, I decided to try the Hair Lounge after having several fitted by other salons. This was a great experience from start to finish. Neil and Joel were a pleasure to deal with, they were able to get me booked in very quickly. On the day was greatly warmly at the hair lounge in Galdaming, the salon is very nice and cosy, and discreet so for those who are a bit apprehensive having a hair system fitted rest assured the setting is very private and warm. Neil was fitting my hair system and was a pleasure to talk with, the time went by quickly and the result is honestly the best hair system I have had. He was able to fit and style the air system beyond my expectations and my friends and family have commented that it looks great. Am extremely happy and am already looking for returning for a new hair system in the future."
"Best decision of my life, absolutely love it."
"Super friendly and professional guy , I was a little nervous going in but Jay made me feel totally relaxed and talked me through any queries I had, exceeded expectations."
"Amazing experience! So happy I used the hair longe very welcoming and professional!"
"I absolutely love going into the salon. Tara and the team are experts and perfectionists in hair systems and styling. They listen and adapt the hair to my requirements every time, to the smallest detail. I have learned so much and each time I go we make improvements and I come out happier with the way I look. Thanks to the team for my amazing hair!"
"Just had new system fitted by Neil after lockdown, absolutely love it. Great cut & shape! Very happy Thanks ?"